 G-chemical Intellectual Patent Firm has been offering quality service to its clients and has achieved long term relationships with valued clients since it was founded in 1997. We always place priority on the quality of our service, and we are committed to improving our professional expertise and skills for the good of our clients.
The technical fields that we mainly cover are chemistry and bioscience, but we are also confident in handling the wide variety of related fields such as organic synthesis, polymer chemistry, chemical engineering, biochemistry, medicines, agricultural chemicals (herbicide, pesticide, germicide), repellent, cosmetics, fragrance, surfactant, catalyst, organic chemical product, solvent, adhesive, coating material, film, fiber, organic material, inorganic material, rubber, elastomer, metal, printing, optical product, semiconductor device, nanotechnology, food, healthy food, food additive, biotechnology, plant, and agriculture.
Patent/Utility Model

For effective protection of your right, our attorneys will capture essential features of an invention, and contemplate a broader concept and what is considered the best for each client/application. Our analysis letter will include suggestions backed with experience and in-depth understanding of the core of the invention, and the possible strategies advantageous in pursuit of a grant.

Design

We can advise our clients not only for design protection but also for possible combination of your design, invention (patent) and branding (trademark) protections for your business.

Trademarks

We suggest a suitable way of filing an application as well as appropriate goods or services in connection with your business upon hearing your business plan and product development.

Search/Investigation

Our Attorneys conduct comprehensive prior art search before filing application, observation, or invalidation procedure, covering not only patent documents but also non-patent literatures.
We have conducted a number of domestic/international trademark searches as well.

Opinions

We will also advise possible infringement prevention strategy when preparing an opinion.

Third Party
Observation
Opposition
Invalidation Trial

For Petitioner/Demandant: We will present suitable argument according to your objectives.
For Proprietor: We will make every effort to protect your right as a valid right for your purpose.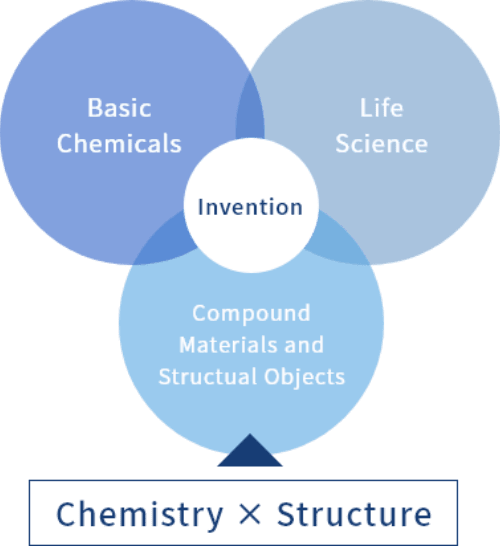 While our strongest field of specialty is chemistry,
we are also confident in dealing with combined technologies such as "chemistry" and "structural objects".
Basic Chemicals

organic synthesis, polymer chemistry, plastics, chemical engineering, bioengineering, surfactant, catalyst, organic chemical products

Compound Materials
and Structural Objects

coating material, solvent, adhesive, pressure-sensitive adhesive, film, label, fiber (natural fiber/synthetic fiber), non-woven fabric, organic material, inorganic material, battery, rubber, elastomer, metal, alloy, printing technology, optical product (e.g., lens), semiconductor device, nanotechnology, construction material, construction tool

Life Science

pharmaceutical agent (for external/internal use), agricultural chemicals, repellent, cosmetics, fragrance, biotechnology (plant, microorganism), food (seasoning agent/beverage/flavoring agent), functional food ingredient, food additive

G-chemical Intellectual Property Firm
Umeda Shiga Bldg.7F
1-1-49, Sonezakishinchi, Kita-ku,Osaka-shi,Osaka
530-0002 Japan
Phone: +81-6-6344-2550
Fax: +81-6-6344-2551
For inquiry, please e-mail to info@gchemical-ip.com
Representative Partner Yasuaki Kataoka
6 Patent Attorneys / 1 Advisor / 1 technical staff / 8 office staffs
Founded December, 1997
Now in practice as a patent professional corporation since September, 2015